In Light Therapy Services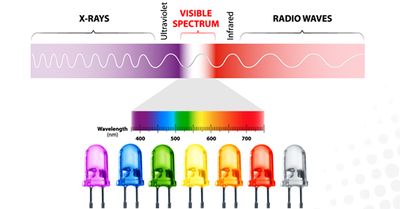 WHAT IS "IN LIGHT" LIGHT THERAPY?
"In Light" polychromatic light therapy uses light emitting diodes (LED) delivering red, blue, and infrared light to the skin using a carefully timed sequence of settings, known as pulses, combined with Nogier Frequencies. These three (3) wavelengths stimulate beneficial innate cellular responses increasing circulation and activating the release of nitric oxide. NASA studies demonstrate cells exposed to LED light therapy exhibit a 150% increase in cellular metabolism suggesting enhanced cellular repair and vitality.
LED light therapy is non-abrasive, non-invasive, painless, and restorative. In Light Wellness Systems devices are a Class II Medical Device, FDA cleared to increase circulation and reduce pain.
SOME AREAS THAT LIGHT ENERGY CAN SUPPORT AND HELP:
Stimulate circulation
Relieve Pain
Macular degeneration
Skin rejuvenation
Reduce inflammation
Reduce scarring, speed wound healing
WHY SHOULD YOU BE INTERESTED IN LED THERAPY?
INCREASE VASCULARITY (CIRCULATION):
Polychromatic light therapy has been established as a useful tool to increasing the formation of new capillaries, which are additional blood vessels that replace damaged ones. New capillaries speed up the healing process by carrying more oxygen and nutrients needed for healing, as well as carrying more waste products away.
STIMULATE THE PRODUCTION OF COLLAGEN:
Collagen is the most common protein found in the body. Collagen is the essential protein used to repair damaged tissue and to replace old tissue. It is the substance that holds cells together and has a high degree of elasticity. By increasing collagen production less scar tissue is formed at the damaged site.
Stimulate the release of adenosine triphosphate (ATP): ATP is the major carrier of energy to all cells. Increases in ATP allow cells to accept nutrients faster and get rid of waste products faster by increasing the energy level in the cell. Food turns into ATP before the cells utilize it. ATP provides the chemical energy that drives the chemical reactions of the cell.
INCREASE LYMPHATIC SYSTEM ACTIVITY:
Oedema, which is the swelling or natural splinting process of the body, has two basic components. The first is a liquid part, which can be evacuated by the blood system, and the second is comprised of the proteins that have to be evacuated by the lymphatic system. Research has shown that the lymph vessel diameter and the flow of the lymph system can be doubled with the use of light therapy. The venous diameter and the arterial diameters can also be increased. This means that both parts of oedema (liquid and protein) can be evacuated at a much faster rate to relieve swelling.
REDUCE THE EXCITABILITY OF NERVOUS TISSUE:
The photons of light energy enter the body as negative ions. This calls upon the body to send positive ions, such as calcium, to the area being treated. These ions assist in firing the nerves, thereby relieving pain.
STIMULATE FIBROBLASTIC ACTIVITY THAT AIDS IN THE REPAIR PROCESS:
Fibroblasts are present in connective tissue and are capable of forming collagen fibers.
INCREASE PHAGOCYTOSIS:
The process of scavenging or ingesting dead or degenerated cells by phagocyte cells for the purpose of clean up. This is an important part of the infection fighting process. Destruction of the infection and clean up must occur before the healing process can take place.
INDUCE A THERMAL LIKE EFFECT IN THE TISSUE:
The light raises the temperature of the cells through a photochemical reaction.
Stimulate tissue granulation and connective tissue projections: Part of the healing process of wounds, ulcers or inflamed tissues.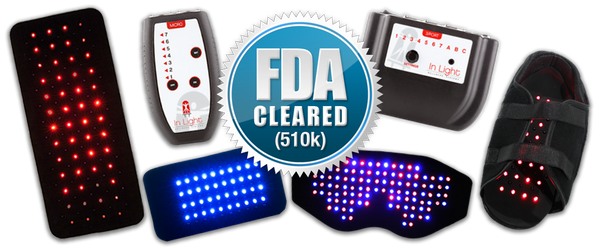 STIMULATE ACETYLCHOLINE RELEASE:
Acetylcholine causes cardiac inhibition, vasodilation, gastrointestinal peristalsis and other parasympathetic effects.
Many people with complaints of pain associated with the following issues have reported positive results using LED light therapy:
Acute neck and back pain
Ankle problems
Arthritis pain and restricted movement
Bone spurs
Bone fractures
Bruises
Burns
Bursitis
Carpal tunnel syndrome
Deep muscle problems
Golfer's/tennis elbow
Fractures
Haematomas
Open wounds with negligible formation of scar tissue
Inflammation
Leg pain
Macular degeneration
Neuralgia
Pain relief
Peripheral neuropathy
Pressure ulcers
RSI/RSP
Shoulder pain
Sore backs
Sprains
Strains
Swelling
Tendon problems
Tennis elbow
Tight muscles
Training (resistance/cardio)
Reduction of scar tissue
Wrist pain
NOGIER FREQUENCIES:
Sick cells vibrate at a different frequency than healthy cells. When we apply a frequency in the healthy range, it offers our cells the opportunity to once again vibrate at their natural healthy frequency. A French physician, Dr. Paul Nogier, working with his patients over many years, identified seven frequencies natural to our body cells. They became known as the Nogier Frequencies.
Dr. Nogier developed a unique pulse test. This test enabled him to determine that all tissues and organs throughout the body (which develop from three basic embryologic tissues; ectoderm, endoderm and mesoderm) are in resonance (sympathetic vibration) with specific frequencies. Dr. Nogier identified these frequencies as harmonics of the musical note D. This is to say that all the tissues of the body resonate to harmonics of D. Dr. Nogier found that these and other harmonics of D have healing effects. Based on these findings, he designed electronic instruments that delivered seven pulsed energies into the body for the purpose of healing injured or diseased organs and tissues. These pulsed energies induced healing by exposing damaged tissues to their normal resonance frequency. The importance of Dr. Nogier's finding that specific body tissues are in resonance with specific frequencies according to their embryologic origin cannot be overemphasized.
According to Dr. Nogier, sickness results when cells, molecules or particles of matter are out of their normal resonance or vibratory pattern. By repeatedly exposing damaged tissue to the normal resonance frequencies associated with that tissue, healing often occurs, sometimes quite rapidly.
(Frequency F, 73 Hz) For use when cellular activity is hypoactive, such as chronic recurring problems, nonunion fractures and chronic splints and for stimulation of osteoid. It is also helpful in activating humoral and endocrine functions. Field work has shown setting 1 helpful in stimulating (tonifying) acupuncture and trigger points and increasing circulation in areas being treated, such as wounds when past the acute stage.
(Frequency G, 147 Hz) For areas of yellow scar tissue that are generally formed internally on tendons, ligaments and sub-acute (lingering but not chronic) conditions. Field use has shown setting 2 to be helpful in reducing inflammation associated with injuries and infections. This is often called the universal frequency because most problems involve inflammation.
(Frequency A, 294 Hz.) For tissue of ectodermal origin, such as body openings, skin and nerve. Field applications include wounds, eye injuries and after surgery. Setting 3 tends to tone tissue while minimizing the chance of hemorrhaging fresh wounds or recent surgical sites. It is also good for the treatment of acupuncture and trigger points, corneal ulcers and ulcerated mucous membranes. This is called the universal frequency in acupuncture.
(Frequency B, 587 Hz.) This frequency appears to be most effective for neuropathy, but also for circulatory and lymphatic stimulation and treatment of tissue of endodermal origin, such as GI tract, liver and pancreas. In field applications, setting 4 has been used in conjunction with 5 and 2 for tendon, ligament, joint and other injuries where reaching secondary levels of tissue is needed.
(Frequency C, 1174 Hz.) For tissue of mesodermal origin, such as bone, joints, ligament, viscera and tendon. Field experience has shown setting 5 to be especially good for tendon and ligament injuries when used with 4 and 2. It also helps in relaxing large muscle groups.
(Frequency D, 2349 Hz.) For chronic conditions not responsive to setting 3 or 5. Field experience shows setting 6 to be a good supplement to 3 when healing processes appear to reach a plateau.
(Frequency E, 4698 Hz.) For pain control, primarily when C nerve fibers are transmitting to dorsal root ganglia and when involvement of neurotransmitters is of physiological importance. Field experience shows 7 to help suppress pain and to sedate acupuncture and trigger points and aid in diminishing excess calcification associated with chips, spurs and arthritic conditions.
BRIEF CLINICAL/RESEARCH INTEREST STATEMENT
Harry T. Whelan, MD, believes in a translational patient care philosophy of bringing the latest research discoveries from his laboratory bench to the patient's bedside. Dr. Whelan is the Bleser Family Endowed Chair in Neurology, Children's Hospital of Wisconsin, Professor of Neurology (Pediatrics), director of the Hyperbaric Medicine Unit, and recipient of the Neuro-Oncology American Cancer Society Clinical Oncology Career Development Award from Vanderbilt University. He has been inducted into the NASA Space Technology Hall of Fame for his research into the use of near-infrared light for wound healing and the treatment of brain tumors and neurofibromatosis using photodynamic therapy. In a multiyear investigation approved by the Food and Drug Administration, Dr. Whelan studied the use of Near-infrared Light to promote healing of mucositis from chemotherapy and radiation used to treat cancer in children. Dr. Whelan found that diabetic skin ulcers and other wounds in mice healed much faster when exposed to the special LEDs in the lab. Near-infrared light stimulates improved energy metabolism in the mitochondria, leading to treatment for mitochondrial diseases which affect the brain, eye, heart and muscle. Dr. Whelan also is funded by the National Institutes of Health in a study of neurodegenerative disease, traumatic brain injury and other childhood traumas. He also conducted a pilot study supported in part by the Clinical Translational Science Institute of near-infrared light therapy for diabetic macular edema, a form of diabetic eye disease. The Defense Advanced Research Projects Agency (DARPA) is funding his research in neurological ischemia, traumatic brain injury (TBI), reperfusion and stroke, which affects many children with congenital heart disease. Dr. Whelan presented this translational bench-to-bedside research to the United States Congress at the NASA Spin-off Day on Capitol Hill as an example of how space research is helping patients.
Dr. Whelan holds the rank of Captain and is a Diving Medical Officer in the U.S. Navy, a consultant to the Navy Experimental Diving Unit with clinical and research experience in Hyperbaric Medicine, wound care and combat casualty care. He has over 100 publications, including cancer, laser, LED and diving/hyperbaric studies.
Whelan blinded rats by giving them high doses of methanol, or wood alcohol. This is converted by the body into formic acid, a toxic chemical that inhibits the activity of mitochondria. Within hours, the rats' energy-hungry retinal cells and optic nerves began to die, and the animals went completely blind within one to two days.
But if the rats were treated with LED light with a wavelength of 670 nanometers for 105 seconds at 5, 25, and 50 hours after being dosed with methanol, they recovered 95 per cent of their sight. Remarkably, the retinas of these rats looked indistinguishable from those of normal rats. "There was some tissue regeneration, and neurons, axons and dendrites may also be reconnecting," says Whelan.
These findings have profound implications in the use of LED light treatment, called photobiomodulation, for a non-invasive way to treat retinal diseases and injury and prevent blindness.
Light That Can Cure You: "Exciting new research provides doctors with an alternative treatment to drugs or surgery for ailments ranging from acne to Alzheimer's… Acne, wrinkles, viruses and more can be treated with light. Healing the human body with a beam of light sounds like something out of a classic Star Trek episode. But even Dr. McCoy never dreamed of the futuristic ways that today's doctors are finding to use different kinds of light in medicine. Researchers are exploring everything from penetrating beams of light that seem to repair heart tissue after a heart attack to "light therapy" that appears to improve Alzheimer's patients' ability to sleep through the night. Doctors are remedying the side effects of cancer treatments, severe acne and other ailments just by shining high-intensity light in varying colors on the affected area. . . ." February 4, 2007, USA Weekend Magazine.
Therapeutic Light: "Light is a form of energy that behaves like a wave and also as a stream of particles called photons. The development of monochromatic light sources with single or a narrow spectra of wavelengths paved the way for studies, which continue to show that appropriate doses and wavelengths of light are therapeutically beneficial in tissue repair and pain control. Evidence indicates that cells absorb photons and transform their energy into adenosine triphosphate (ATP), the form of energy that cells utilize. The resulting ATP is then used to power metabolic processes; synthesize DNA, RNA, proteins, enzymes, and other products needed to repair or regenerate cell components; foster mitosis or cell proliferation; and restore homeostasis. Other reported mechanisms of light-induced beneficial effects include modulation of prostaglandin levels, alteration of somatosensory evoked potential and nerve conduction velocity, and hyperemia of treated tissues. The resultant clinical benefits include pain relief. . . " January/Febuary 2004, Rehab Magazine.
Medical Researchers Apply NASA Space Technology to Cancer Treatment:

The NASA technology being used by Dr. Whelan and his collaborators involves light-emitting diodes (LEDs), which emit a broad spectrum of light that can be used as an energy source for photosynthesis in plants. Quantum Devices in Barneveld, Wis., originally developed the technology so that NASA could grow plants in space. Using similar LEDs, Dr. Whelan and his collaborators are conducting promising clinical trials for brain cancer treatment as well as for relief of oral mucositis, a painful and dangerous side effect of chemotherapy experienced by many leukemia patients. February 2008 Cancer Center News.
20mins / $30 40mins/$50